After this weekend's cooking extravaganza, it's nice to be able to make a dinner that is quick and easy, but still delicious. I love cooking, but even I need a break once in a while. Thankfully, I had the foresight to build up a small freezer stash over the last few months.   I made a batch of this ranchero sauce back in January, when we had heuvos rancheros for dinner. I froze the remaining 2 quarts, figuring we'd use up the rest the same way. Instead, one became the base of a chicken enchilada casserole, and the second was used to braise this pork roast.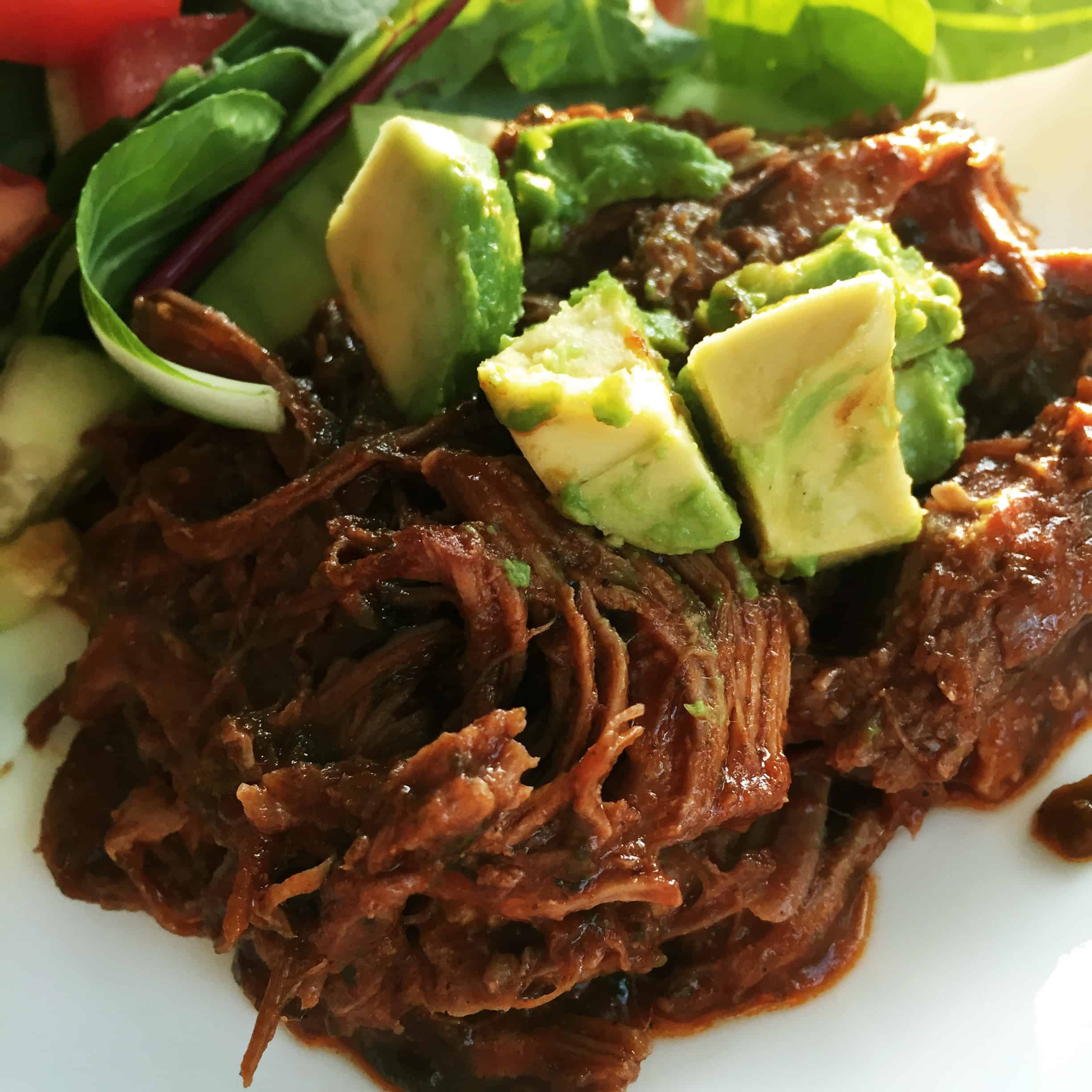 Braising is one of my favorite techniques, because it's so simple and yet so flavorful. Sear some meat, add whatever flavors or sauces you're using, pop it in the oven, and forget about it for a few hours. The sauce thickens up in the oven, getting all caramelized around the edges and adding a ton of flavor that you just don't get with a slow cooker. The only downside is that you actually have to be home while the oven is on.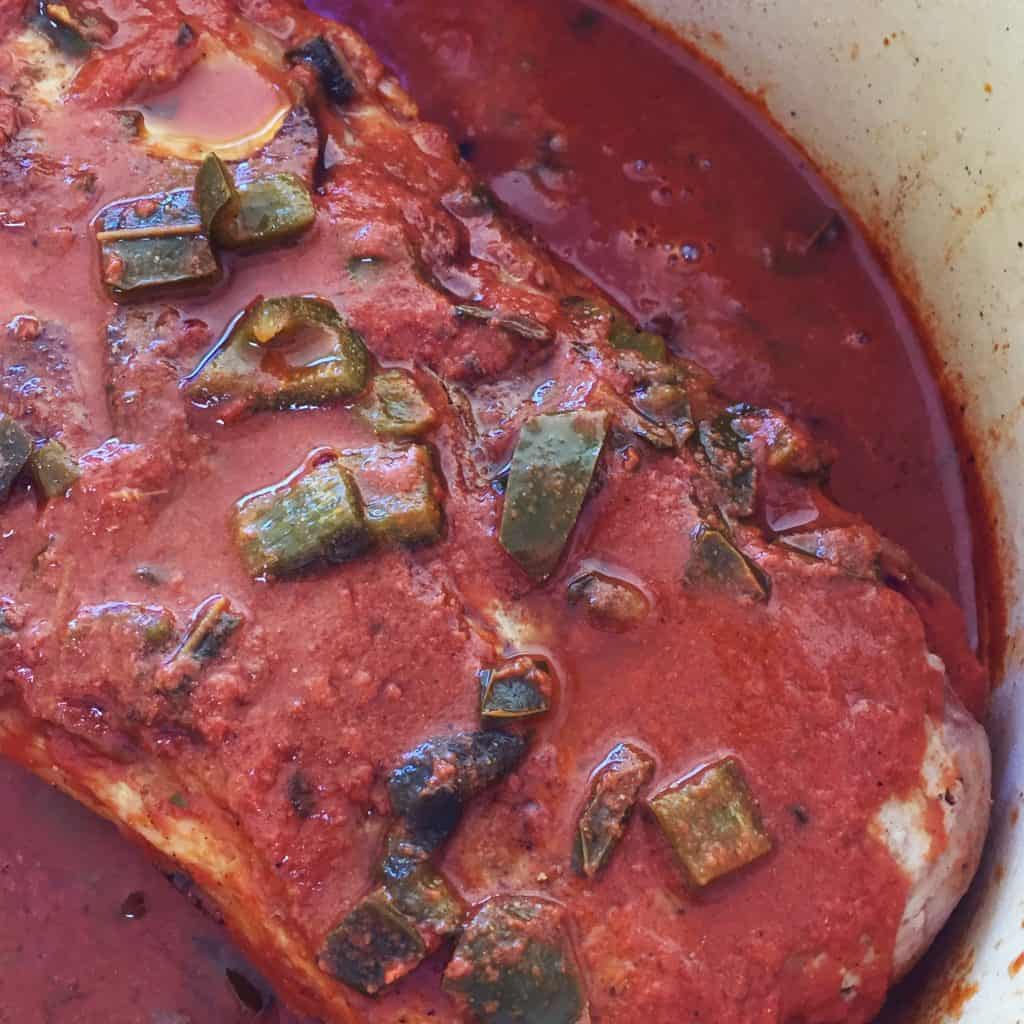 Shredded pork slowly braised in ranchero sauce is my favorite way to use this recipe so far. It was rich and tender and had a wonderful flavor that was concentrated during the braising process. I desperately wanted to wrap it up in flour tortillas, but I restrained myself since last weekend was pretty much a carb-fest. Instead, I topped it with some avocado and served it alongside a simple salad.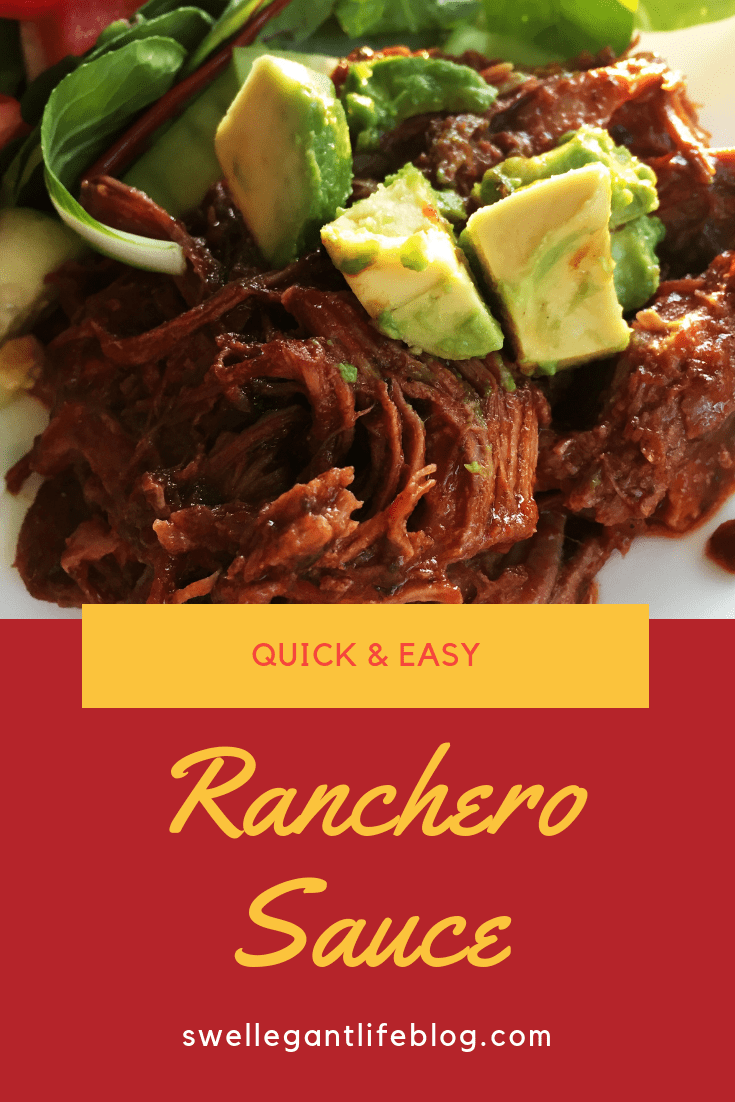 Ranchero Sauce
Yield: Approximately 3 quarts of sauce. 

A rich, tomato-based sauce that can be made ahead and frozen. Use it for heuvos rancheros or as an enchilada filling with beef or pork.
Ingredients

Directions
Ingredients for the Sauce:
5 Poblano peppers, seeded and diced 2 tbs bacon fat, butter, or other fat
1/2 onion, chopped (optional)
1 clove of garlic, minced (optional)
Alternative: 1/8-1/4 tsp asafetida* (optional)
2 tbs mild chile powder or ground pasilla peppers
1-2 tsp ground cumin
chipotle or other hot chile powder to taste
1/2-1 tsp oregano
1/4-tsp tarragon
3 cans tomato sauce
2-4 cups chicken broth
Ingredients added to taste/to balance flavor:
salt (enhance flavors)
sugar (reduce acid)
cocoa powder (give depth)
tarragon (give depth)
ground pasilla peppers (good chile flavor without heat)
Ingredients for Enchilada Filling:
3-4 pound beef or pork roast, chicken breasts, or chicken thighs
1 tbs olive oil
salt and pepper
To make the Sauce:
Sauté peppers and onions, if using, in bacon fat until tender.
Add asafetida (optional), chile powder(s), cumin, oregano, and tarragon and sauté for a few minutes.
Add the tomato sauce and chicken broth.
Simmer until flavors meld, and adjust seasonings. Thin with more broth if needed.
To make a Braised Enchilada Filling:
Heat oven to 350 F.
Lightly season the meat with salt and pepper.
Heat about olive oil in a dutch oven, until it begins to shimmer
Sear the meat on all sides, until golden brown.
Pour 1 quart of sauce on top of the meat.
Put the lid on the dutch oven, and place in the oven for 2-3 hours, until the meat is tender and shreds easily.
Remove any excess fat or bones from the meat.  Shred the meat and return to the pot, coating it with sauce.
Use as enchilada or burrito filling, or serve by itself with your favorite toppings (avocado, guacamole, sliced radishes, cilantro, sour cream, etc.).
To make a Slow Cooker Enchilada Filling:
Really short on time? Don't even worry about defrosting anything. It loses a little depth of flavor that comes from browning the meat, but it's still absolutely delicious.

Pop a frozen beef or pork roast and the frozen block of sauce in the slow cooker, and cook on low for 8-10 hours.
If you're home and can do so, flip the roast over and stir things around at the halfway point.
Shred the meat, and add back to the sauce.
Use as enchilada or burrito filling, or serve by itself with your favorite toppings (avocado, guacamole, sliced radishes, cilantro, sour cream, etc.).
Freezer Directions:
This recipe yields approximately 3 quarts of sauce, which freezes well. I use quart bags or freezer-safe jars, and freeze in 1 quart portions.
The flavor should be primarily a rich tomato and chile, without too much heat, and slightly creamy from the fat.
*This recipe was made with asafetida to accommodate a garlic and onion allergy. If you don't have an issue with onions, go ahead and skip this ingredient.